Buck 110 Folding Hunter Review
The Buck Knives 110 Folding Hunter knife is a classic. It's revered among the industry. Regarded as an innovation, the Buck company has made an estimated 15 million of the 110's.
The 110 has long been one of the most trusted knives on the market. You've most likely seen copies of it everywhere. It's become the foundation on which the folding knife industry has built its empire.
With Buck, quality and design are chief and the 110BRS certainly lives up to this.
Key Specs of the Buck 110
Blade Length:

3.75 inches

Blade Steel:

420HC

Blade Style:

Clip Point

Handle:

Dymondwood

Weight:

7.2 oz

Carry System:

Sheath

Origin:

Made In USA
BUCK 112 REVIEW
Written and Photographed by Blade HQ Staff Writer Logan Rainey on 9/18/2020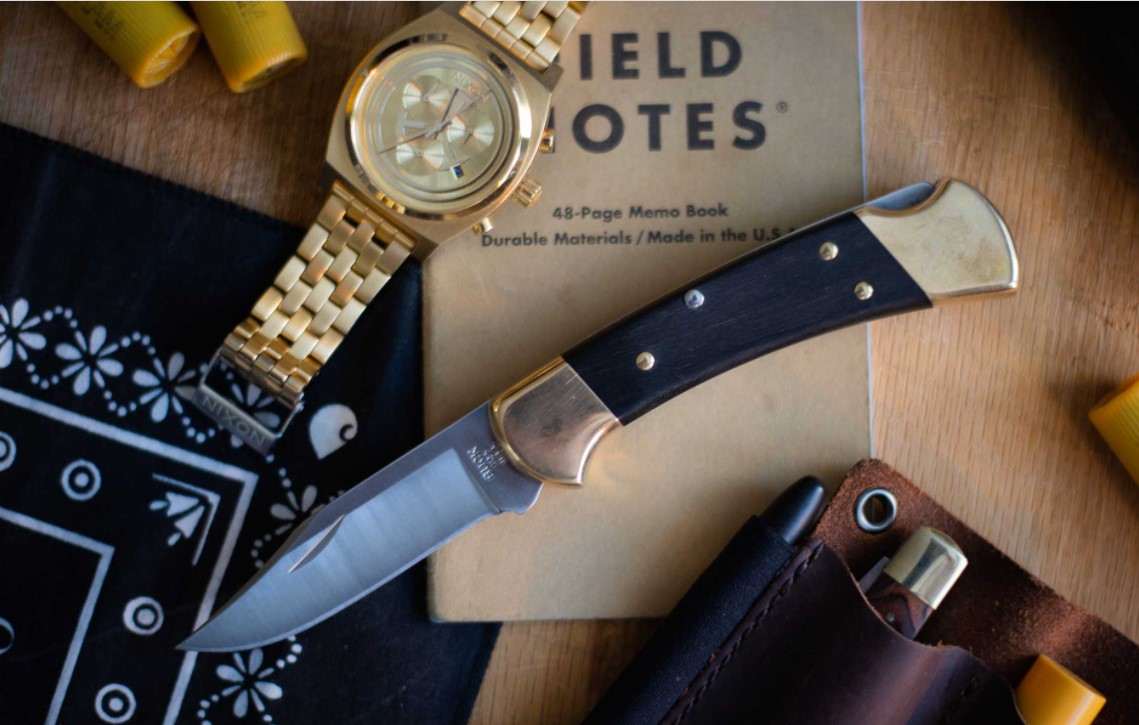 Being that I am typically drawn to lightweight, slim and simple knives, picking up the Buck 112 for the first time and carrying it for a few weeks was quite the change. For starters, the knife is significantly heavier than I am used to and it took a few days to feel like the knife wasn't weighing me down, and second, the lack of a pocket clip meant I had to wear a belt that actually kept my pants up. Having handled the bigger Buck 110 and loving the classic look and feel of that knife, I knew the slightly smaller 112 would be a great fit into my everyday carry rotation. In this review I break down some of my favorite things about the knife and look at areas that could use improvement in the future. Without further ado, let's break down the Buck 112.
First let's run through the stats...
7.25" Overall Length
3.00" Blade Length
Clip Point Blade
420HC Stainless Steel
Ebony Hardwood Handle
6.19 oz. Weight
Lockback Locking Mechanism
Leather Sheath
Made in USA
KNIFE LIFE SCORE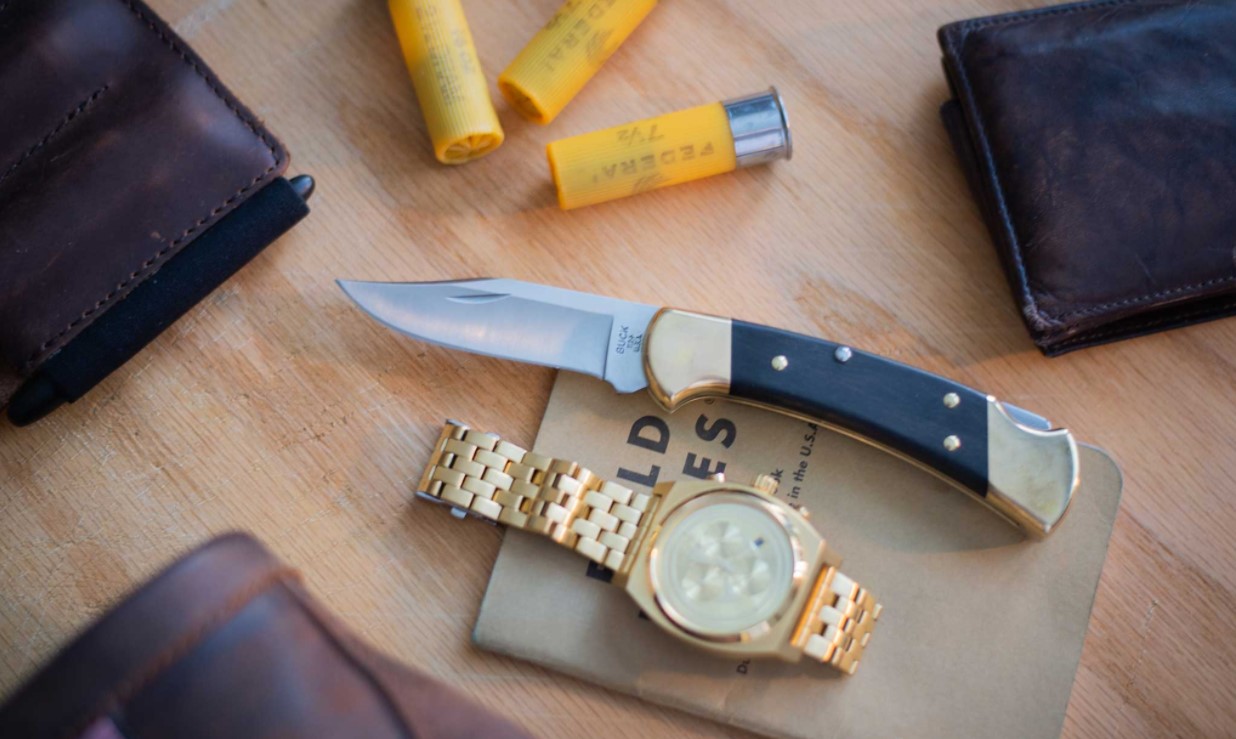 Knife Life is all about representing your personality and passion through the knife you carry in your pocket every day. Quality and performance are key. Tasteful design and ritzy details are also important. You can be confident carrying any knife with a high Knife Life Score. Each section is scored out of 10 with a grand total of 100.
UNIQUENESS / IMPORTANCE
Score: 10/10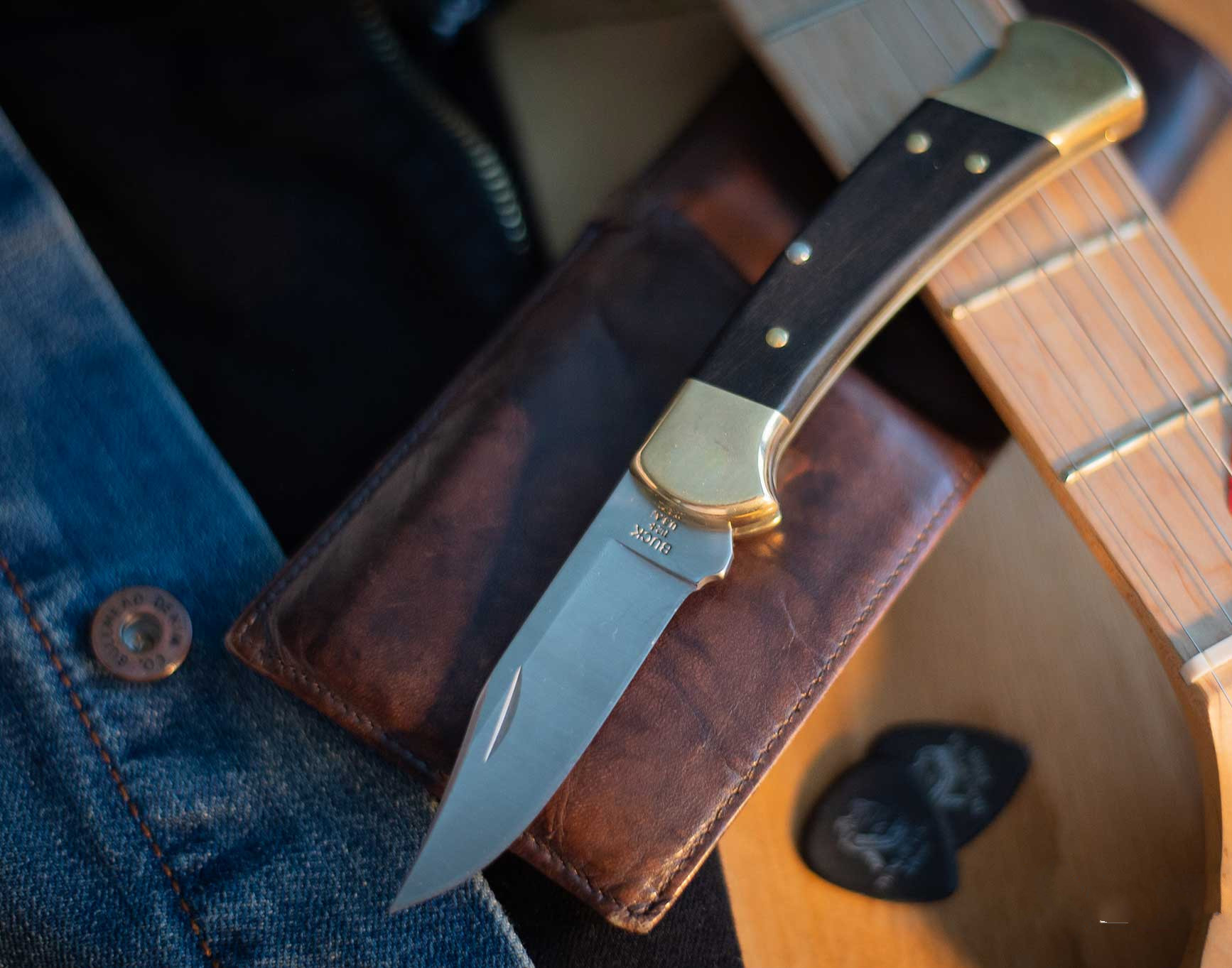 We've had the privilege of looking at quite a few iconic and classic knives over the past few months. When it comes to importance in the knife industry, Buck Knives is right up there with the other big names. They've started making knives since 1902 and have been dedicated to producing quality, American-made knives ever since. The Buck 112 was introduced in the 1960s as a smaller version of the Buck 110, and has served many as their go-to work, hunting and utility knife. Given this knife's rich history and its consistency over the last 60 years, it can easily be said that this is one of the most important knives in the knife world. It has laid the foundation for other lock back and traditional style knives, and serves as a continued example of American design and innovation.
---
MATERIALS
Score: 8/10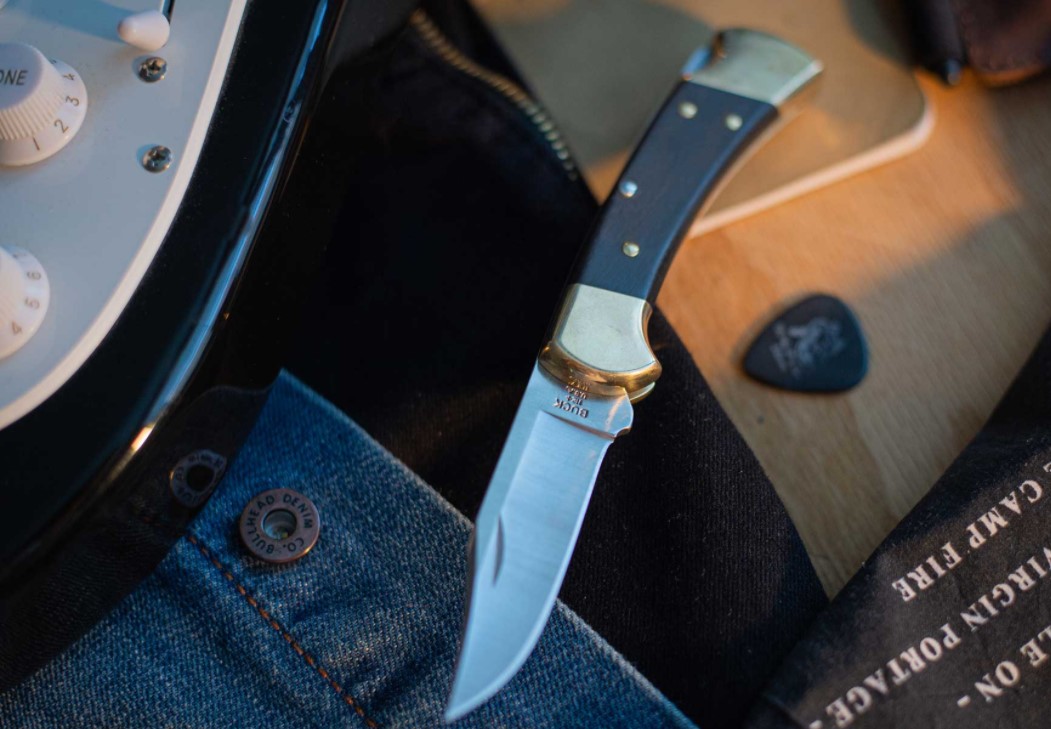 Traditional knives are known for being durable, well-made and ready for work. They tend to be composed of simpler materials like wood and brass, and feature blades that are easy to maintain. The Buck 112 Ranger is built with simple yet effective materials intended to give this knife strength and durability over generations. It features brass bolsters, ebony hardwood handle scales and a uniquely heat-treated blade for that classic look and reliable performance. Not much can beat the quality and durability of a Buck 112.
---
LOOK / STYLING
Score: 8/10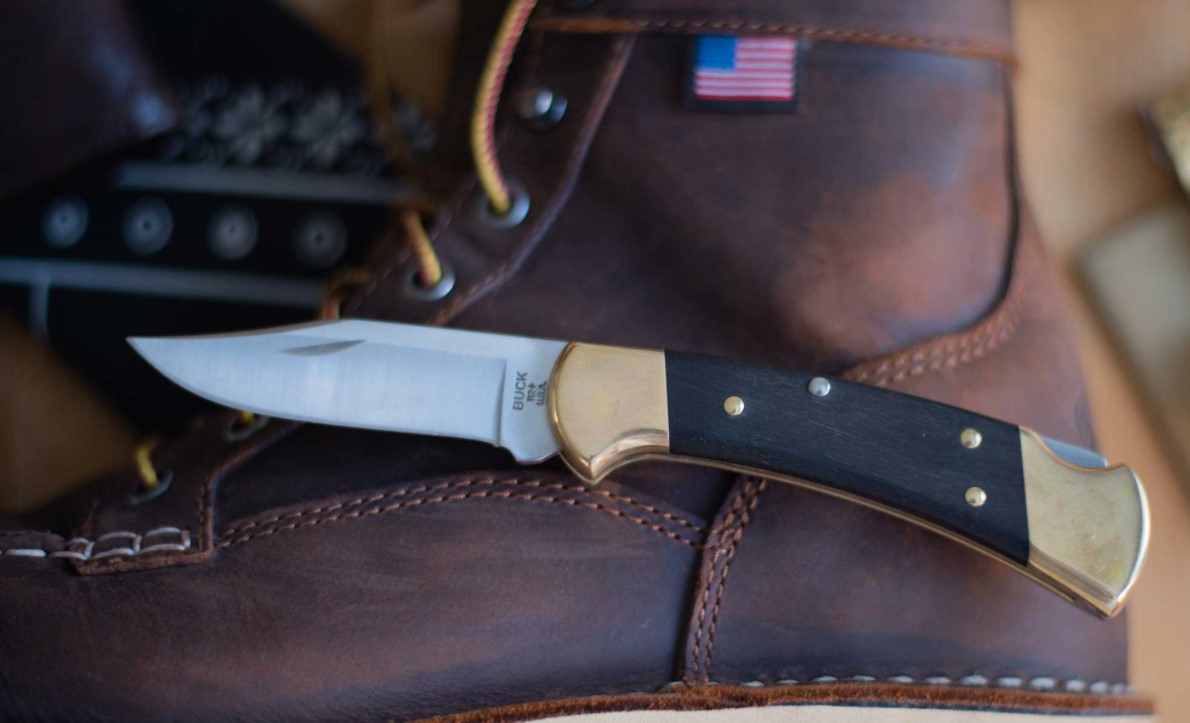 The one thing about the Buck 112 most people will agree on is how handsome it is. It has a nostalgic style to it that gives everyone the feel of being a mountain man or trapper in the 'good ole days'. Its brass bolsters give it both elegance and warmth while its wood handle scales have a natural look and feel that is meant to stand the test of time. This knife comes with a black leather pouch and is designed to be carried in pocket or on a belt.
---
ERGONOMICS
Score: 9/10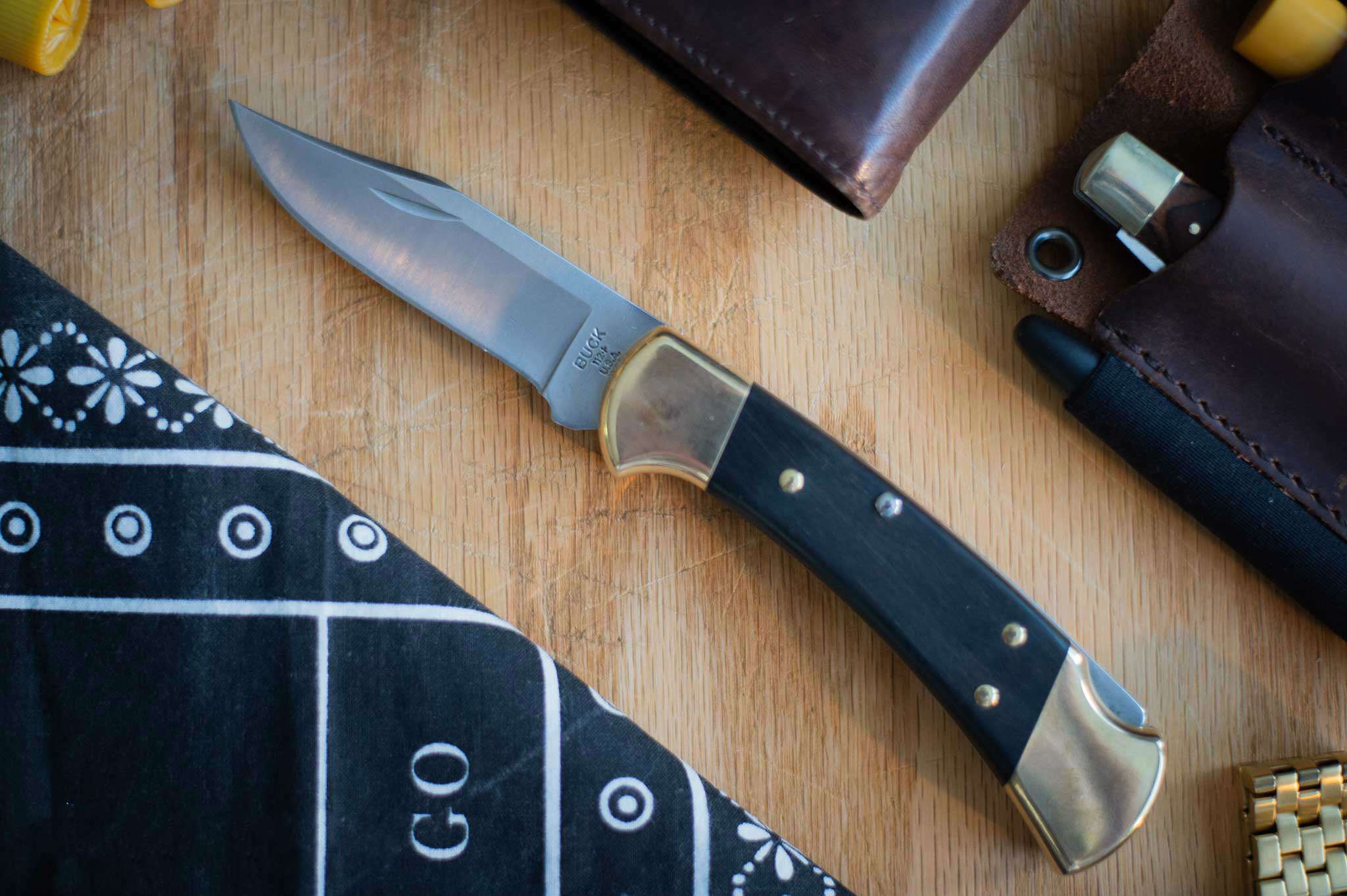 Being used to slim knives, it was a real treat to handle and use the Buck 112. Its generous handle allows for easy grip and maneuvering, and doesn't have any hotspots. I enjoy how all the edges are rounded and the pins holding the knife together are flush with the rest of the handle. When not in use, the knife was a little cumbersome to put in and out of the sheath (some time will help this as the sheath wears in). My one complaint about the ergonomics of this knife is the fact that you just can't open and close it with one hand, and I had a tougher time doing so thanks to a hand injury. Overall this is a very comfortable knife to handle and I was quite impressed.
---
Deployment / Lockup
Score: 7/10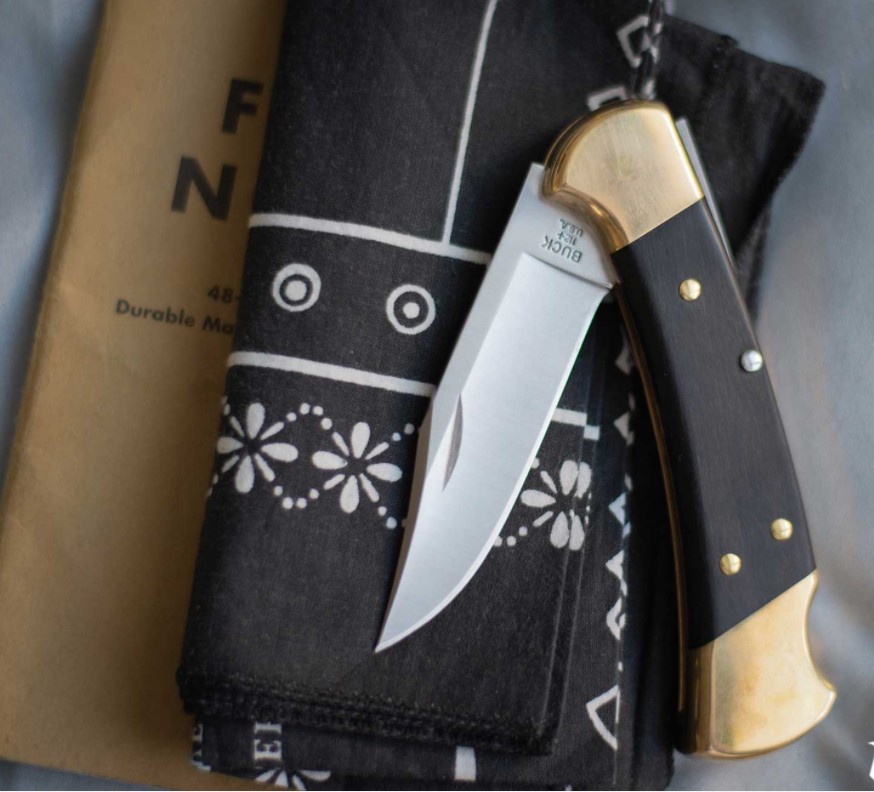 If I had to choose one thing about the Buck 112 to not like, it would be the deployment. I have had the privilege of carrying knives with smooth, one-handed opening mechanisms, and this is not one of those knives. That aside, the knife opens by way of a nail nick, and has a rock-solid lock back that is seemingly fail-proof. Even though this knife requires two hands to open and close, it is easy to use and has a nice half-stop for safe opening and closing. Initially I had a tough time with the lock back because there was some grit in it from the factory (a little cleaning and lube made it much better), but it got much better with time.
---
BLADE / SHARPENING
Score: 10/10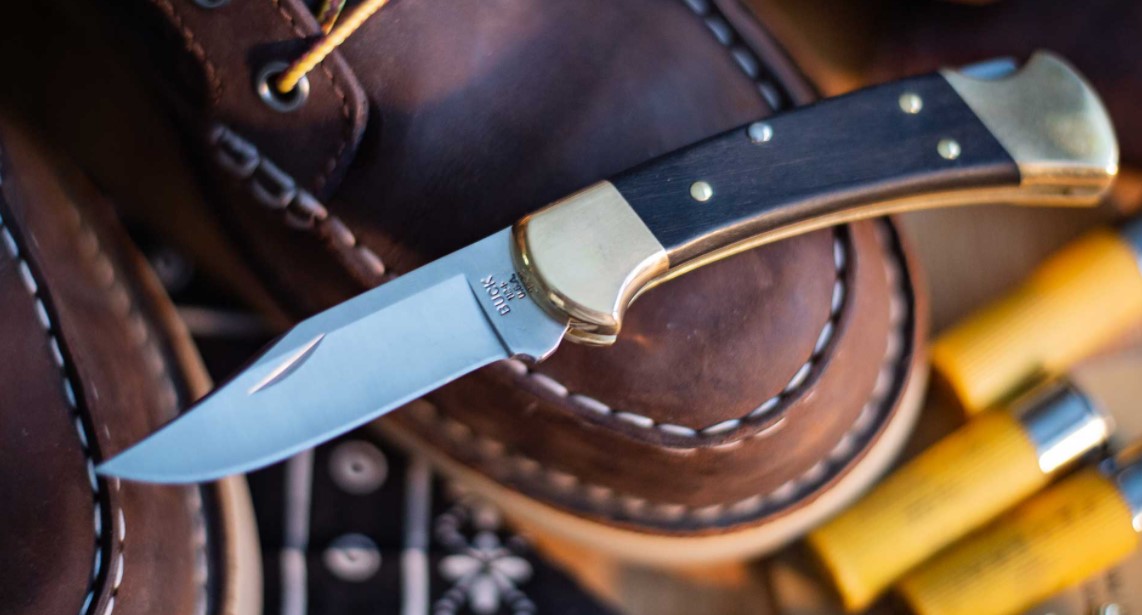 Buck knives are known for having some of the most durable blades in the industry. Now some steel snobs will look at a Buck knife with a crumpled nose and pursed lips because of its 420HC Stainless Steel blade, but they are entirely missing the point. This blade steel is meant for hard use, and when combined with the incredible Bos Heat Treat process, it sees a lot longer edge life, is easier to resharpen, and is less likely to fail than other knives with similar steel. Though I didn't go out and completely abuse the blade, it got some good use and is in surprisingly good shape. The edge is still wicked sharp and I am pleased to say that with a couple passes on a leather strop, it is as good as new.
---
FIT-AND-FINISH
Score: 10/10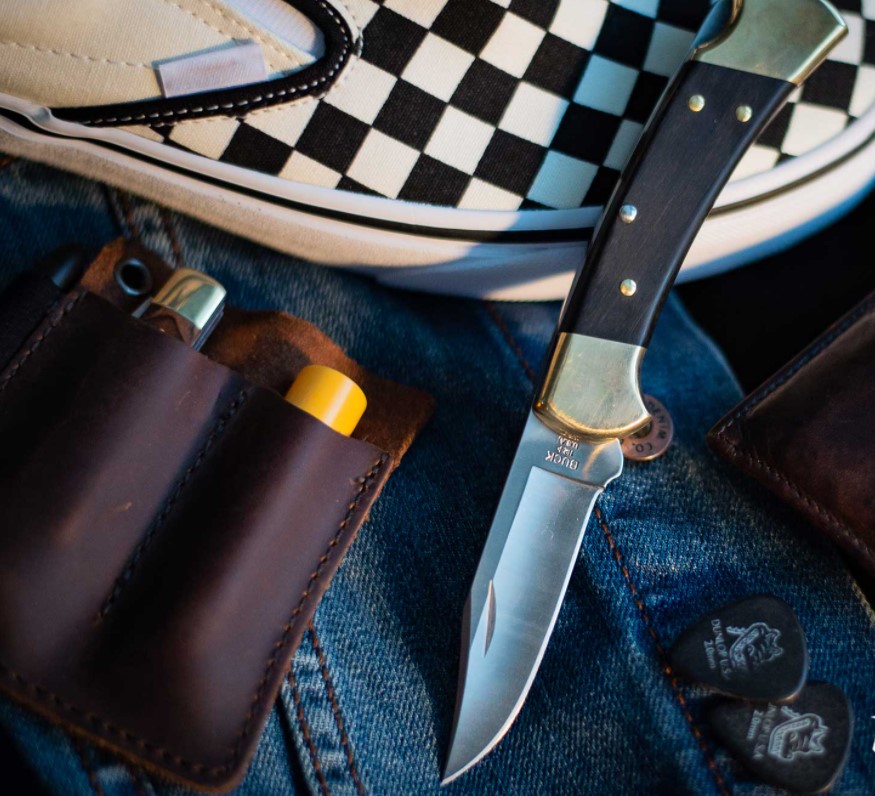 The fit-and-finish of the Buck 112 is, as simple as it may sound, great. The handle is consistently shaped on both sides, the blade is ground to perfection and has a uniform bevel the whole length of the blade, and nothing on it gives me the indication that it is going to fall apart anytime soon. With regular use, the knife has started to develop a nice patina on the brass parts, and will age very well. Overall the knife is well made and feels great.
---
CUT TESTS
Score: 10/10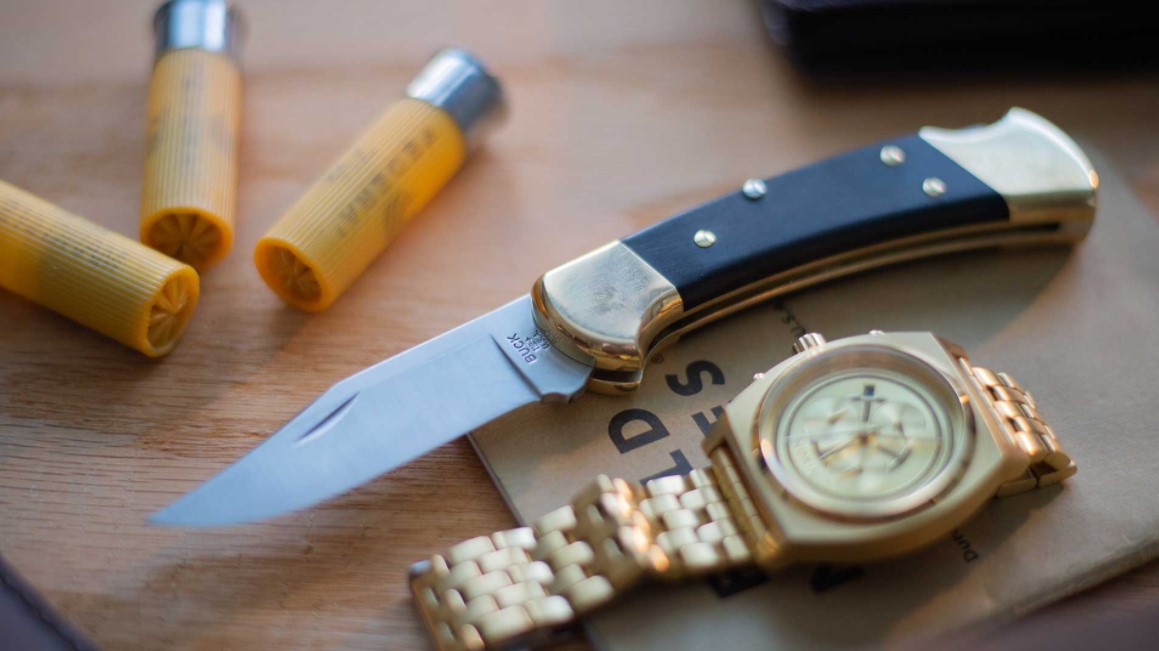 Right out of the box the Buck 112 was one of the sharpest knives I have ever handled. Thanks to its Paul Bos Heat Treat, an extremely sharp, consistent edge is able to be put on the blade, and it stays there. I took this knife with me everywhere for a few weeks and used it for everything from opening mail to carving sticks, and the edge is still there. The knife also performed exceedingly well for cutting rope and slicing vegetables. Though it isn't the sliciest knife in the world, I was able to prep some food with it and was pleased with the results. I'm quite confident this knife will tackle bigger jobs like skinning and field dressing game with ease.
---
Ease of Carry
Score: 7/10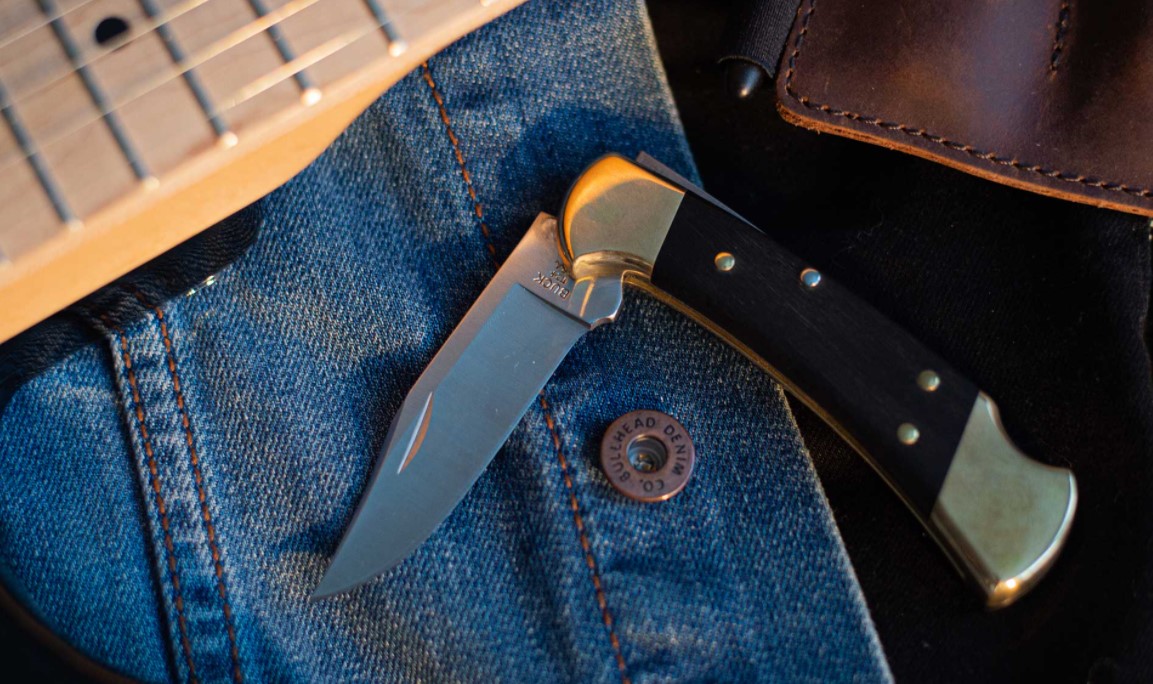 Determining how easy it is to carry the Buck 112 is a challenge. If you're someone who doesn't like big knives and has a tough time with heavy things in your pockets, it's not easy to carry. However, throwing this knife in its pouch and putting it on your belt has a unique feel that can only come from carrying a bigger knife in this way. For me, the knife was too big to put in my pocket with my wallet and wireless headphones. I opted for belt carry and it was great. I enjoyed the change it was to have a more substantial knife on me. I didn't appreciate the extra glances I got for having a large object on my hip, but that's neither here nor there. This knife is about as easy to carry as any other knife. It's a little heavy for my liking, but if you're someone who uses their knife for more than cutting your sandwiches in half, you won't mind the extra heft.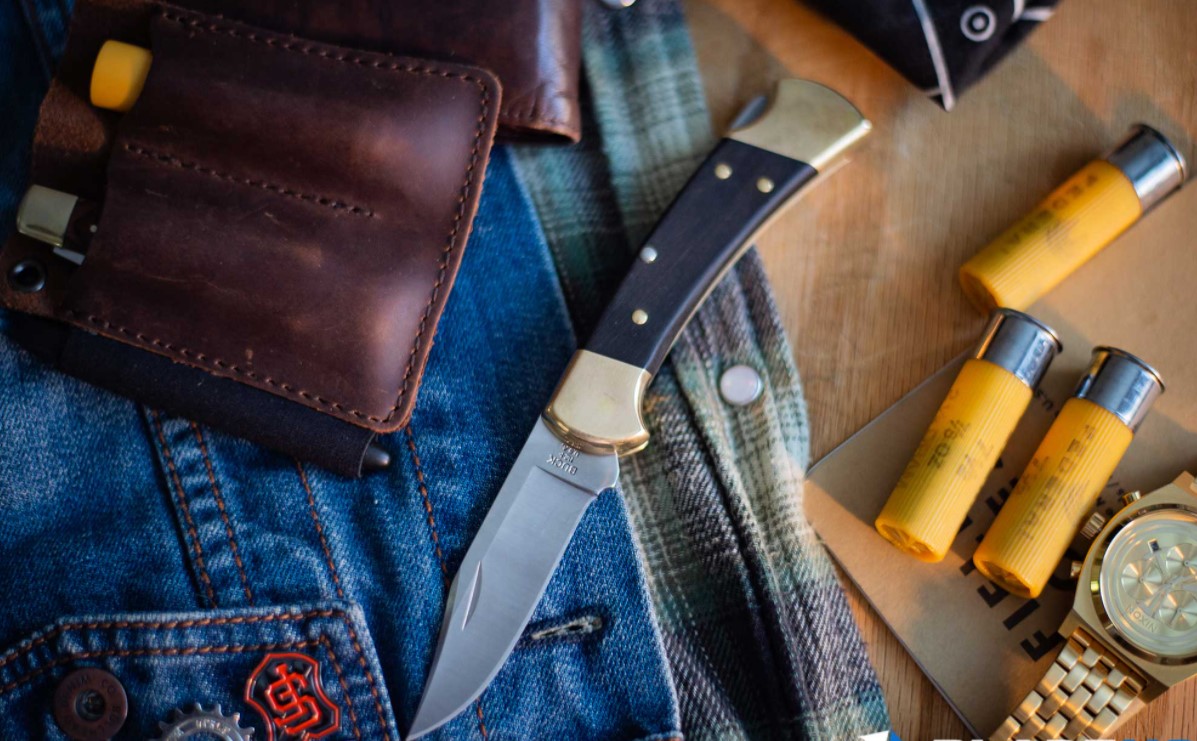 ---
POCKET JEWELRY
Score: 8/10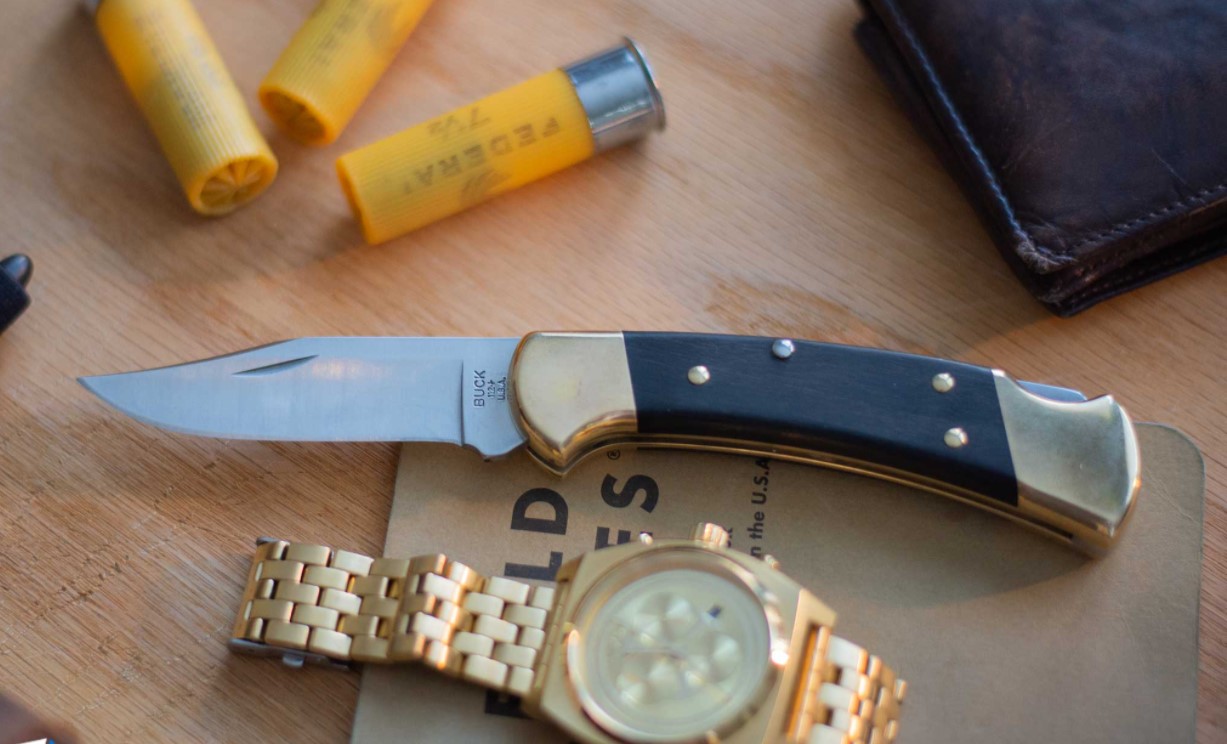 The Buck 112 is a classic. It doesn't get much cooler than that. Though it doesn't have many frills, the 112 is a unique knife that is sure to draw attention. Its unique look and familiar feel are enough to warrant stories from dads and grandfathers the world over. I can't say the knife is the most wanted knife in the industry or the most unique in terms of materials or design, but it is iconic and well worth adding to your collection.
---
TOTAL KNIFE LIFE SCORE:
87/100

I was pleasantly surprised with the Buck 112 during the few weeks I carried it every day. The knife has its quirks, but for what it lacks makes up for it with quality, nostalgia and class. The Buck 112 is a high-performing folding knife with absolutely no B.S. It is a tried and trued platform that has remained, for all intents and purposes, unchanged for the duration of its existence. Whether you're into the finer things in life or have a rebel soul, the Buck 112 Ranger and its variants are well worth their weight in salt and in my honest opinion belong in every EDC rotation. The knife is great at doing pretty much anything you throw at it. Take it camping. Take it on a cross-country motorcycle ride. Take it with you everyday. It takes some getting used to, but is well worth owning.
---
BUCK 112 RANGER VS. BUCK 112 SLIM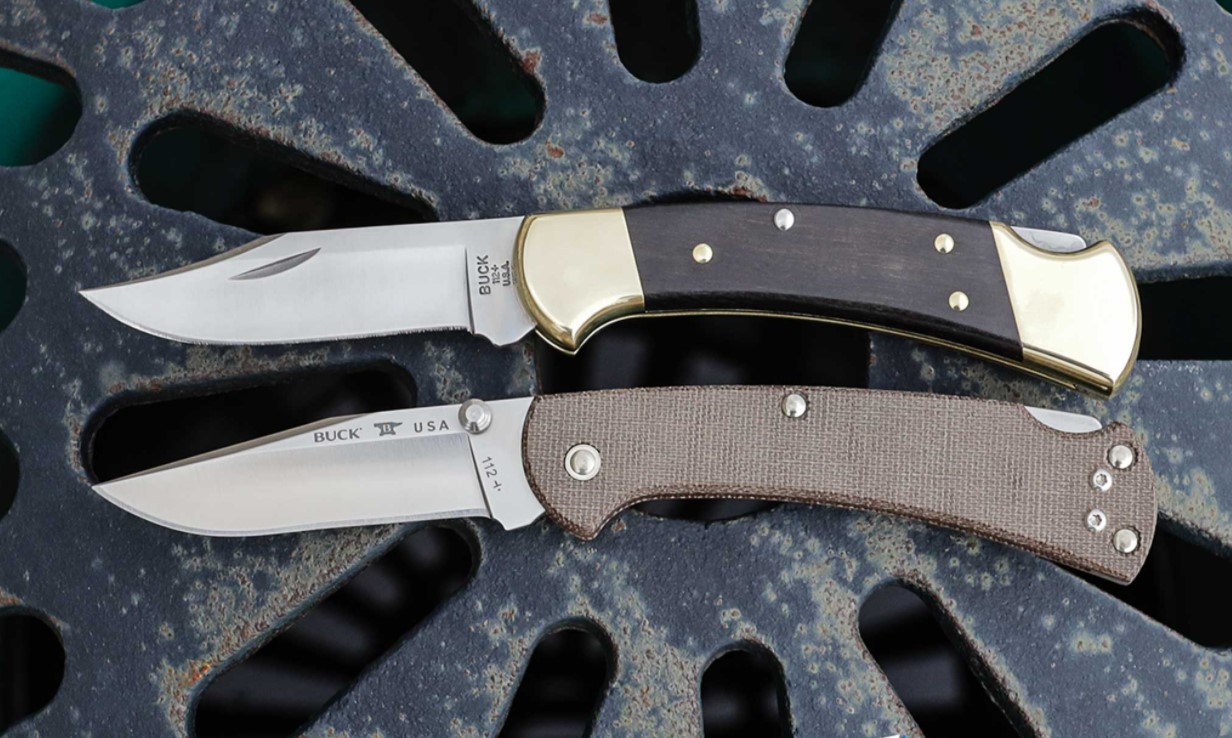 For some the regular Buck 112 Ranger will feel like too much knife. It's a bigger knife (smaller than the Buck 110, but still big) and requires a lot of real estate. The Buck 112 Slim is a great alternative to the 112 Ranger thanks to its slimmer profile and pocket clip. The Buck 112 Slim is available with a variety of handle materials and comes standard with a pocket clip. This is a great knife for people who live in areas where knife laws limit what they can and can't carry as it is a simple folding knife with no frills, but one that can still tackle large jobs without weighing down pockets. Check it out by clicking below.